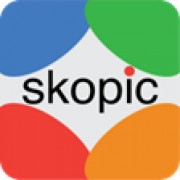 San Jose, CA, April 22, 2015 (Newswire.com) - Skopic keeps local communities real time, engaged and information networked via community sourced, clutter free micro-blog messages. It is a new paradigm to develop, organize and connect local information.
"Skopic has created a very unique space for itself and presents very different vision and value than Nextdoor or Yik Yak which have been talked about recently in the media" says Skopic's Chief Evangelist and Co founder, Murali Pidathala. "Given its potential for sustained user adoption and low internet requirements, Skopic has a great potential for ubiquity" he added.
"I love Skopic's purpose. It's a hyper local informational network that focuses on information and not the people who post it. This is important because it creates a genuine connection within communities with common goals and common values. There are anonymous social networks that are similar, but they are not genuine, and that's what I really appreciate about Skopic. I can see it becoming very popular among schools, neighborhoods, cities, special interest clubs and groups of friends. The possibilities truly are endless and it's exciting to see where the company is going."

Christian Galindo, Product Intern @ SKopic, Majoring in Entrepreneurship & Finance @ Santa Clara University
Ravi Gudapati, who is an Investor and a Co founder said, "Skopic renews the sense of purpose in social apps for local good" He also added, "Skopic app can be extended to other regions within the United States by requesting to open a new community and a new country launch India is expected to happen in a couple months"
Skopic's initial adopters feel Skopic fills in the big missing use case in popular apps like Facebook groups, Twitter and Yahoo Groups that are overly cluttered, casual, out of context and untimely.
A few initial adopters include communities at Prospect High School, EDS Neighborhood, Santa Clara University, San Jose State University, University of California at Davis and for-cause local groups in SF Bay Area.
On Skopic communities, the participants;
-Develop community knowledge base via sharing thoughts or knowledge on related matters
-Can find answers instantly off the community knowledge base or get answers from informed-credible peers
-Can stay real time to communicate or collaborate on tagged events, topics or issues
-Can share or be notified of urgent community moments or updates
-Can contribute and be important
More communities can be requested via www.skopic.com or Skopic for iOS / Android. Skopic is a free service and will continue to remain free in the future.
About Co founders, Ravi Gudapati and Murali Pidathala [@murlee on Twitter]:
The Co-founders are based in Silicon Valley for over 15 years, and they bring in their IT business and small business expertise to tech startup. They are business and tech savvy professionals with great passion for community development and social innovation.
More about Murali Pidathala @ http://www.linkedin.com/pub/murali-pidathala/4/589/541
More about Ravi Gudapati @ https://www.linkedin.com/pub/ravindra-gudapati/7/957/a79
Skopic on Social Media: www.facebook.com/skopic.inc
Share: