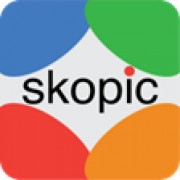 San Jose, CA, April 7, 2015 (Newswire.com) - Skopic is a new paradigm for developing more informed and engaged communities. Skopic was a product of the vision embraced to develop a critical missing use case in the digital information landscape. It's a community app that emphasizes social learning through information sharing and knowledge networking rather than people networking or personal matters that most social apps focus on.
The local communities can quickly adopt Skopic to communicate and collaborate in real time; however, the development of community knowledge base for finding instant answers or actionable information happens over a period of time through conscious and active engagement from the participants.
"Skopic is a twitter like way to share notifications for all prospect events and activities. In Skopic, I can create hashtags or groups within prospect high school community- for example, I created #ptsa2014/2015. I post items about ptsa specifically here - and whoever follows this group will get the messages/notification that I post. Skopic can potentially be the one place where all parents and students can communicate in groups for different clubs, sports teams, parent groups, etc. There is also a forum for people to ask questions and there is a search feature to help find answers" This is a really central, and organized way to exchange and view information related to our Prospect High community.

Lubna Sheet, PTSA President 2014/15 @ Prospect High School, Saratoga, CA
Skopic is created on 4-core principles:
1. Keep matters near and real
2. Reduce gossip and clutter
3. Connect or search information instantly
4. Increase credibility and provide timely information through community sourcing
Skopic caters to three types of local communities:
University or college campuses
School Neighborhoods
For cause or interest groups
The app's initial adopters are consistently providing great reviews and feedback on this simple but powerful idea that keeps our local communities information networked.
"Responsible indulgence on Skopic can be "transformational" for the above stated local community segments," said Ravi Gudapati who is a co-founder and a co-investor. "Skopic develops genuine and strong communities involving credible participants," he added.
Murali Pidathala [@murlee], another co-founder and chief evangelist states, "in the real scenario of ubiquity and deep adoption, about 20% of the user traffic could be driven from Google and Facebook onto Skopic resulting in a real social impact from social learning."
Skopic is an early stage start-up founded in 2011. The Co-founders Murali Pidathala and Ravi Gudapati are savvy IT business professionals based in Silicon Valley. The Skopic offering is a direct result from their Life experiences, incredible passion to apply the cutting edge for community development and smart execution.
Skopic can be conveniently accessed at www.skopic.com or mobile apps for iOS / Android. Skopic is a globally scalable solution to host a number of local communities in various regions. Any community of purpose will be added upon submitting an online request community form via Skopic app.
Skopic is seeking capital to scale user growth, increase user adoption and expand markets. Please direct investor inquires to ravi.gudapati@skopic.com or murali.pidathala@skopic.com
Share: